ICSE vs IGCSE vs IB vs CBSE vs NIOS: Choosing the Right Board
9 December 2021 — Written by Aishwarya Muralidhar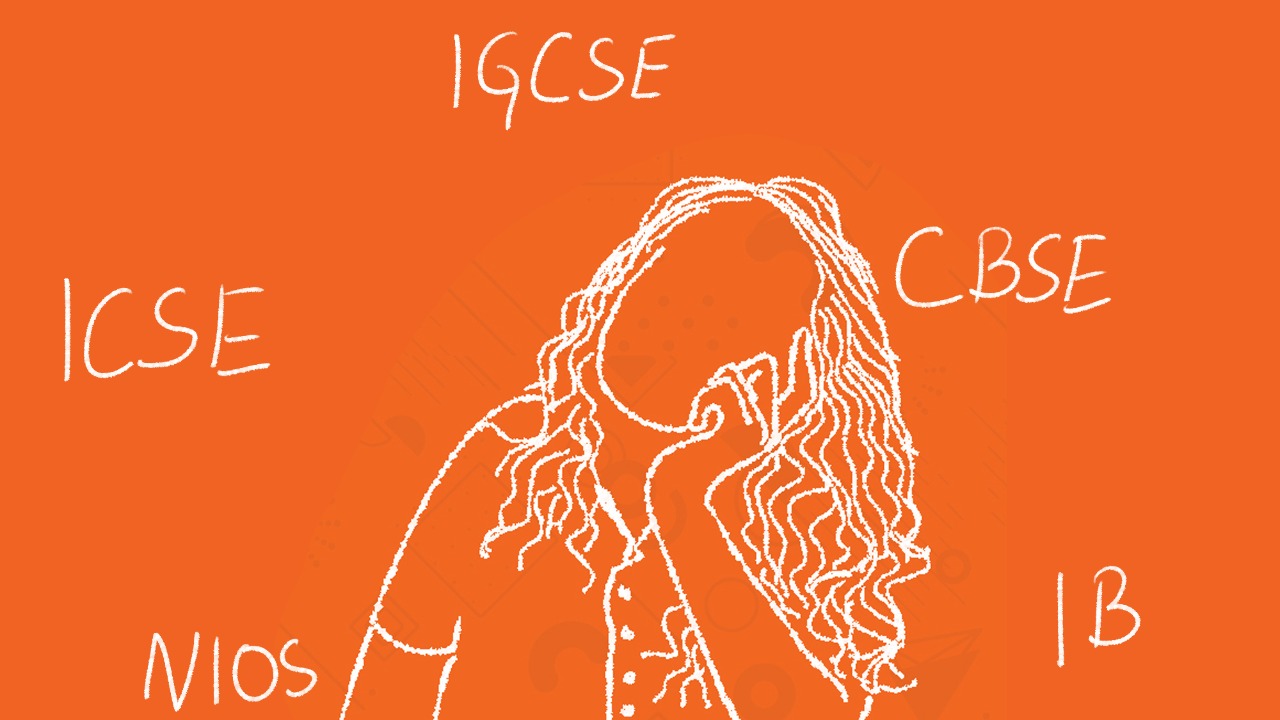 Are you looking for a new school for your child? Are you trying to differentiate the different educational boards out there in an attempt to find the right one for your child? ICSE vs IGCSE vs CBSE vs NIOS vs IB - choosing the right board does not have to be overwhelming. ICSE, IGCSE, IB, CBSE, and NIOS are all certified and recognised as examination boards by the Department of Higher Education.
The differences lie in their curriculum, their approach to learning, assessment criteria, and a few other factors that we'll dive into shortly. Let's take a look at each board so that you can make an informed decision for your child!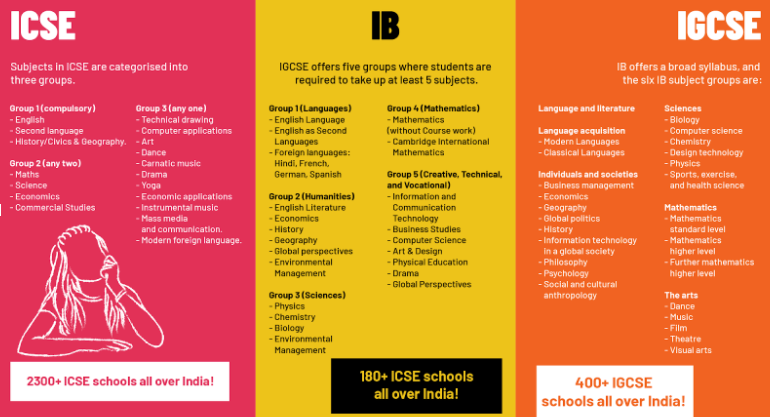 What is the ICSE board?
ICSE, or the Indian Certificate of Secondary Education, is a private board of school education. The ICSE syllabus is vast and detailed, and the mode of instruction is in English. From an examination standpoint, the curriculum focuses on practical knowledge.
What is the IGCSE board?
IGCSE, or the International General Certificate of Secondary Education, was developed by the University of Cambridge International Examinations. It is internationally recognised and regarded to be equivalent to other international curricula. They encourage collaborative learning and reduce the pressure of competition.
What is the IB board?
IB, or the International Baccalaureate, is a rigorous curriculum that is recognised by universities across the world. They offer a broad syllabus and a variety of teaching methodologies.
Students can choose to study sciences, individuals and societies, or a language course, instead of a course in the arts.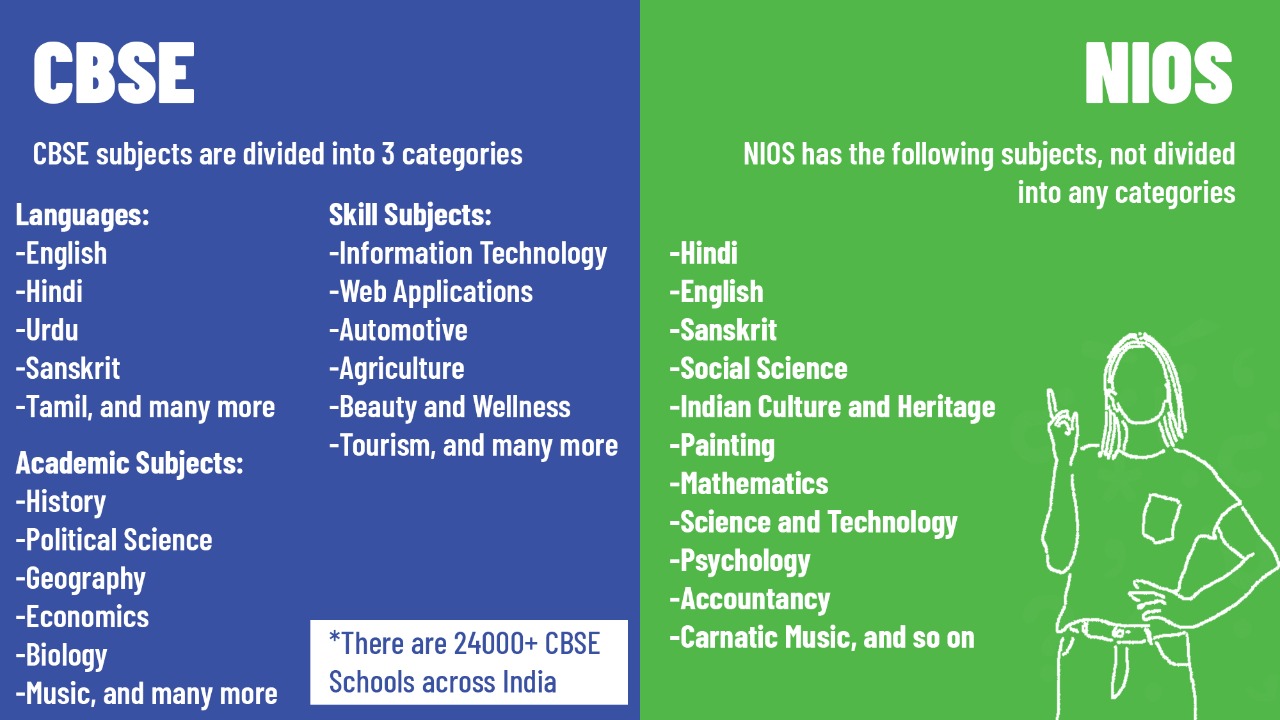 What is the NIOS board?
The National Institute of Open Schooling (NIOS) offers flexibility through distance learning. This curriculum is especially suitable for students who aren't catered to through traditional forms of schooling. Differently-abled students have the opportunity to learn at their own pace and can attend examinations as and when they feel they're ready.
What is the CBSE board?
The Central Board Of Secondary Education (CBSE) is one of the most common education boards in India. This curriculum focuses on a more theoretical approach to subjects and leans heavily on science and mathematics.
Number of schools
There are 24,000+ CBSE schools and 2300+ ICSE schools all over India. Compared to 400 IGCSE schools and 185 IB schools. While there aren't many schools that offer NIOS curricula, it offers learners the flexibility to learn wherever they want to. Why do these numbers matter? It'll be much easier to transfer from one ICSE school to another since there are quite a few to choose from. However, since there aren't many IGCSE or IB schools, they don't offer the same flexibility.
2. Focus and approach
All the above-mentioned boards offer a wide variety of subjects for students to choose from. They emphasise overall development rather than a student's exam-taking abilities. Students are exposed to a range of different subjects, thereby providing them with a lot of flexibility. The IB and NIOS board distinguishes itself from ICSE, CBSE and IGCSE by providing students with the autonomy to explore and learn by themselves. Students can even mix those subjects with fine arts, music, theatre, filmmaking, etc.
3. Criteria of assessment
IGCSE schools assess students based on a three-tier grading system - Distinction, Merit, and Pass. It is designed so that students are tested for their depth of knowledge. In addition to written exams, students are evaluated on their oral and problem-solving skills too. ICSE and CBSE merits students using marks ranging from 100 – 0 marks. With the IB board, assessments are graded using an 8 point rubric. Teachers focus on four different criteria for each subject. This grading system encourages students to shift away from rote learning. NIOS examinations are similar to that offered by ICSE and CBSE but learners have much more flexibility with regards to how and when they appear for exams.
4. Complexity Level
Concepts are taught at a high level in ICSE. However, it is relatively easy compared to the IGCSE and IB boards.IGCSE and IB curriculum is more arduous and demanding. Students are assessed throughout the year. The IB board focuses heavily on internal assessment, hence making sure that students are always on their toes. This approach ensures that teachers get a sound understanding of how much the learners have grasped. CBSE and NIOS are similar in the sense that the rigour of the syllabi is the same.
What else should you look for?
While understanding how these different boards operate is important, there is something else that you should be aware of when making a decision. We're talking about teachers! A school is essentially as good as its teachers. Learners can blossom and grow exponentially under the guidance of a good teacher. If you can, interact with the teachers at the school you're scouting. Or reach out to parents of students that attend those schools to get honest feedback.
Make sure to do your own research of the school. What are the extracurriculars like? How can the school help enable your child to grow? Does the board offer values and choices that are in line with what you and your child have in mind?
What subjects do they offer?
While ICSE, IGCSE, IB, CBSE and NIOS all offer the same core subjects, they differ in the variety of subjects that students can choose from to expand their knowledge and interests. Does the board in question offer subjects that your child is interested in? These are subject to change depending on the schools in question, so make sure to check with schools directly to understand this further.
Identify their hidden curriculum
What is the culture of the school like? While there may be hundreds of schools following the same board, they're all different in the way that they run. Do teachers and staff offer an environment for students to speak their minds? Or is it rigid? Are there hidden gender biases in the way that the school treats their students?
Thehidden curriculum is just as important as the board that you choose. While much more subtle in nature, it can have a profound effect on your child's school experience. Talk to other parents and students who have had experience with the school to identify this.
Identify their null curriculum
As the word rightly suggests, identify subjects and experiences that are not in the curriculum. What would your child lose out on if they were to enrol in that school? Learning occurs in a variety of ways, and in a variety of places. Does the school offer interactions and experiences to students that can enable them to learn beyond the classroom?
Conclusion
When it comes to ICSE vs IGCSE vs IB vs CBSE vs NIOS, choosing the right board boils down to your preference. All three have excellent curriculum and grading systems. If you're looking to enrol your child in a University abroad, consider choosing ICSE, IGCSE, CBSE, NIOS or IB. If that's not what you're looking for, the ICSE and CBSE board offers a competitive curriculum and environment for your child to thrive.
Would you like to know more about schools and alternative education? Check out our blog and Instagram page or write to us at contact@beyond8.in